Mother INDIA
In the 1950s there was this epic Hindi movie that caught the imagination of millions of Indians. There were people who cried and were sad and depressed for many days. There were people who wanted everyone to stand up for their rights at any cost. There were people who went to movie theatres to watch it again and again.
With all due credit to the Director and actors of the movie, It was just one more reel life. But who is the true Mother India? I was fortunate enough to come across one such Mother India in 2019.
This mother gave us a son who defended our country in the Kargil War and attained martyrdom in the process. Her name is Smt.Mohini Pandey , (I fondly called her Maa ji – As seen in Picture ) . Maa ji called me on Republic day 26th of Jan 20 and conveyed in Hindi 'beta, gan tantra diwas Mubarak ho' (Happy Republic Day). I said shukriya (Thank you) but felt shameful because when she called me as I was not even aware that it was Republic Day. I was just treating this special day as just another day with no special significance attached to it.
I would like to give a background to how I know Maa ji.
---
---
In 2019 October I told my son Veishisht we will be going on a pilgrimage. He asked where. I told him we will go to Delhi in November. We went to Delhi in mid-November 2019. We spent a day at my friend's daughter's wedding. The next day we reached a place. I told my son this is the pilgrimage place I was referring to. He said but papa this looks like a mass graveyard. I said it is not a graveyard but a war memorial. So we were at the war memorial, Delhi. This was the pilgrim place in my opinion. I strongly feel the soldiers are living gods who protect our country day in and day disregarding the safety of their lives. If not for them we would either be wiped out or be slaves or downrated citizens of our enemies. Here are some pictures taken at this pilgrim place, The War Memorial, Delhi.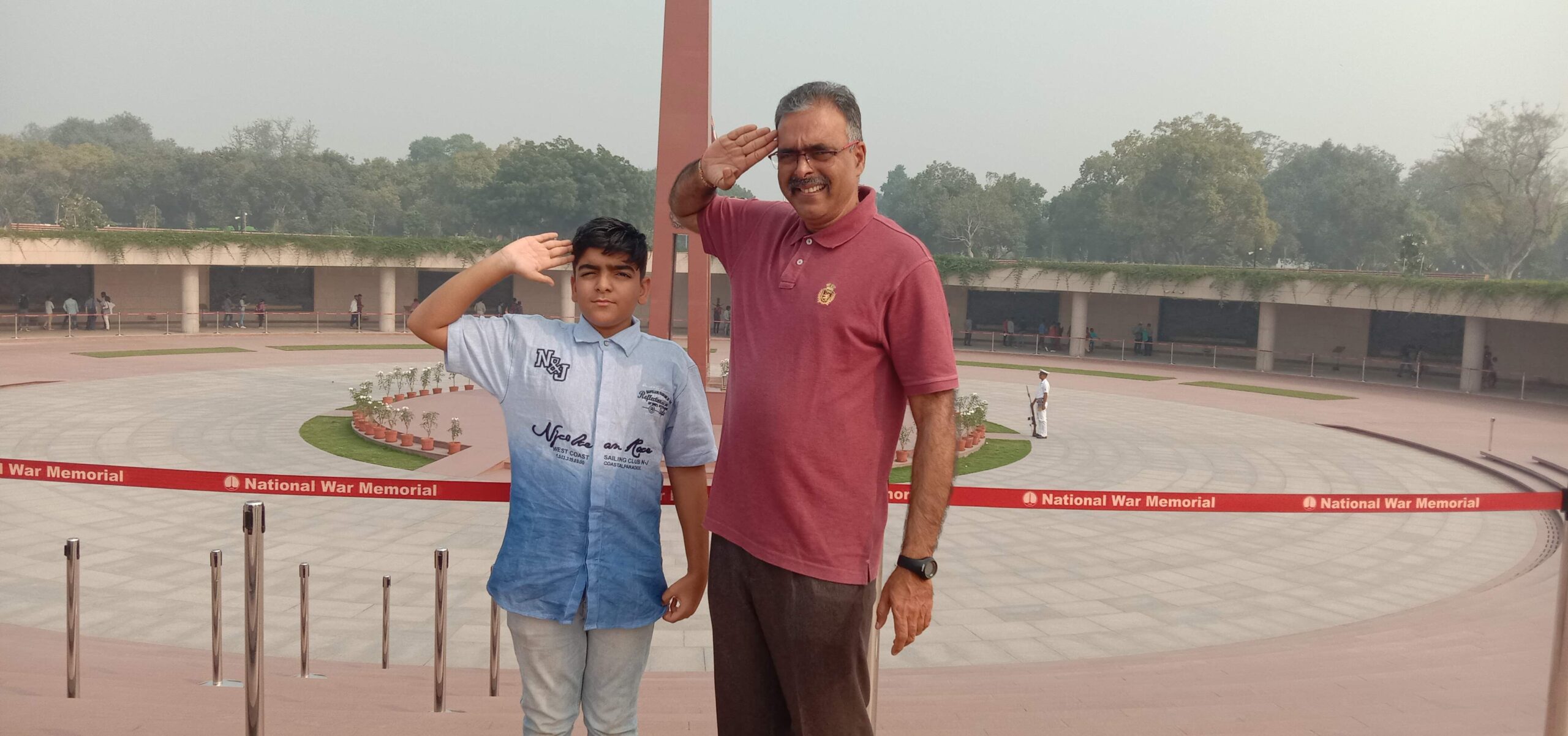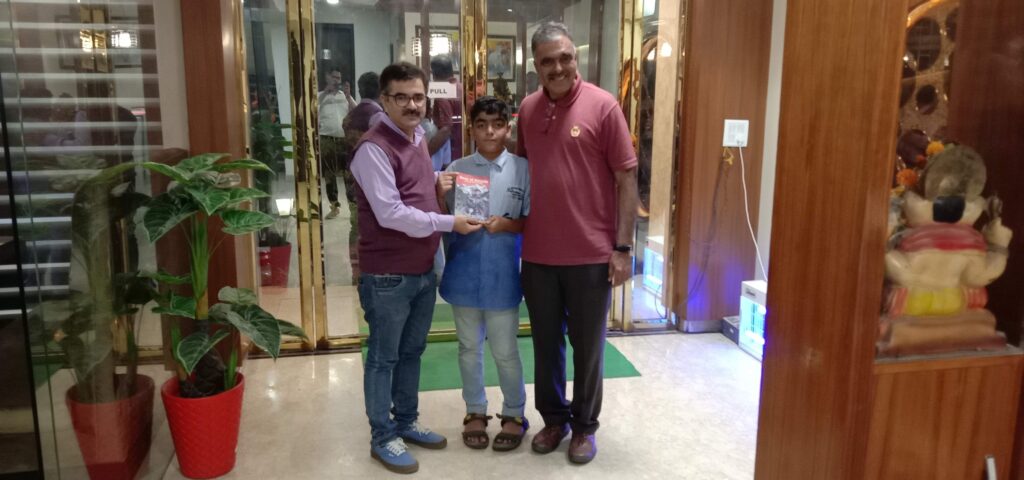 Then we met Mr.Pawan Kumar Mishra, the author of Hero of Batalik. In his book which I had read and is a part of my collection, Pawan Kumar Mishra ji shares the heroics of Capt. Manoj Kumar Pandey his friend, hero and patriotic army officer Capt.Manoj Kumar Pandey.
---
Capt.Manoj Kumar Pandey fought the battle of Batalik during the Kargil war. Capt. Capt.Manoj Kumar Pandey not only fought but was martyred in the battle. His daring and courage before martyrdom won the important and key battle of Batalik during Kargil war for our country. Capt.Manoj Kumar Pandey posthumously was the recipient of India's highest military decoration, awarded for displaying distinguished acts of valour during wartime. Here are pictures of Param Vir Chakra taken at his house at Lucknow during our visit..
We asked Pawan Kumar Mishra, the author, whether we can meet with the parents of Capt.Manoj Kumar Pandey at Lucknow. He spoke to Capt.Manoj Kumar Pandey's mother Smt.Mohini Pandey (maa ji) on the phone. She agreed to meet us at her residence in Lucknow. We went to Lucknow the next day by train, a seven hours train journey from Delhi. We were received at their small residence in Lucknow. We sat with the parents of Capt. Manoj Kumar Pandey. The mother had tears when she shared about her son who gave life for his motherland and expressed how much she loved him and misses him. Her dear son being not alive, causes deep pain, anguish and at the same time she is so proud of him, as he gave up his life for a worthy cause of fighting for his country.
This was their humble abode in Lucknow, a 15 by 20 ft house in the narrow lanes of Lucknow suburb.
Maa ji did share that she and her husband do not want to live in a bigger house eventhough they were economically well off, due to the grace of god and the government's support. Maa ji said she feels her son is in every brick in every part of that house, as Capt.Manoj Kumar Pandey grew up in that small house.
My son Veishisht and I had prepared a song, and we sung. The original song is sung by Lata Mangeskaris shared right below. As you listen to this song, salute the soldiers, in your heart and mind. Soldiers who serve relentlessly at our borders in the harshest of climates and terrain. Most importantly remember the soldiers and the families of those martyrs who allowed and still allowing their child/children to choose defence as the career. Many of these officers were bright and brilliant students and could have opted for a career as an Engineer, Doctor, further pursue management courses and be in a cushy corporate job.

Click HERE to listen to the song

With the permission of the author Pawan Kumar Mishraji I am sharing what Smt. Mohini Pandey (Maa ji), mother of Capt.Manoj Kumar Pandey had penned down about her son in the book Hero of Batalik.

CLICK HERE TO READ THE LETTER

Also attached is the link to a must read article by Major General Raj Mehta capturing how the battle of Batalik was fought, what Capt. Manoj Kumar Pandey did to win at any cost, how he led his soldiers and about a good samaritan Col A K Jayachandran who supported the father of Capt. Manoj Kumar Pandey.
https://rejinces.net/2018/08/15/the-gorkha-brave-heart-who-killed-death/

Finally, my appeal to you is:
Remember the war heroes; they are the real heroes for us. The reel heroes or sportspersons are inspiring in their own way. But for every reel or sports hero, have one war hero as your hero.

Remember:
" A country that does not respect its soldiers is doomed to fail "
Also, one more appeal I am making is, please buy, read and gift the book to your friends, colleagues, employees, team members, near and dear ones, the book Hero of Batalik by Pawan Kumar Mishra. Let this book be a part of your favourite collection in your library. This will only inspire you and the others who will get to know the life, heroics and sacrifices of a war hero who fought for our country gallantly before attaining martyrdom.

I will leave you all with an inspiring song dedicated to the soldiers and officers of our defence forces who were Param Vir Chakra (PVC) recipients: India's highest military decoration, awarded for displaying distinguished acts of valour during wartime. The pictures of these 21 PVC recipients can be seen while watching this video.

Do say thank you and be grateful to each one them while you are watching this video.
https://www.youtube.com/watch?v=LVOJpnM9QNo

Jai Hind.